Ah love is in the air – isn't it always when you are designing for weddings?  That's one of the reasons I love it so much, as it seems I'm a hopeless romantic. I mentioned briefly on Facebook and on the blog that I've signed up to be part of the Committed! Portland's Alternative Bridal Show (click on the link to learn details). Part of my goal with this show is to come up with some new and exciting invitation designs for a more diverse group of couples.
I would love to design for all those fun urban Portlandia couples getting married. I'm convinced not everyone wants the traditional invitations mailed to all of their guests announcing their big day. I'm inspired by our city and by all the great, creative, and talented people who live here and I want to translate that into my work.
Recently I've been wanting to put together a "graffiti" styled invitation which is inspired by my time at the Art Institute in downtown Portland where I received my graphic design degree. There were kids there who were amazing graffiti artists! I am totally in awe of this style of artwork. I thought. wouldn't  it be great to combine the soft beauty of a wedding with this gritty, rough art style?
I'm truly inspired by these wedding invitations from Ceci New York who I already admired greatly. This is exactly the style I'm thinking of putting together – something between the beauty of a traditional invitation and edgy urban artwork. Not to mention these bright poppin' colors!  *Drool*
More inspiration spotted in this photo shoot! Click on the photograph to see even more great shots. I can't get enough of this great combination.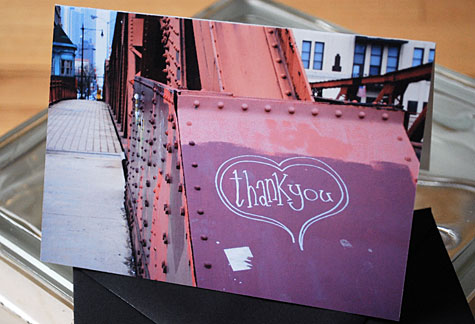 This is a great Thank You card idea I ran across from MerrimentDesign Zazzle. Using photos of great graffiti art in your thank you's, save the dates, or even invitations would be a unique & creative way to express your style.
I was only able to find a few invitations online showing examples of graffiti art as part of a wedding. Which makes me think maybe this would be something new and exciting to explore. What do you think? I hope you come to the Commited! show to see what happens. Who knows what I'll come up with! Leave me your thoughts, I'd love to hear what you think of my crazy ideas.
Click on the pics to go to the blog where I found the ideas – I'm sure you'll be inspired too!